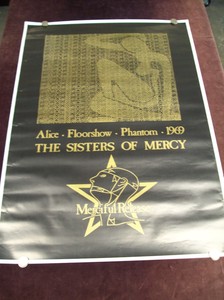 Sing this corrosion to me
Indie-rock powerhouse Superchunk has resurrected its Halloween single tradition, today releasing the track "There's a Ghost" — the band's first new song in two years — with a cover of The Sisters of Mercy's 1983 single "Alice" as the B-side. You can hear both below via Bandcamp.
Superchunk fronman Mac McCaughan on the new song:
"I didn't write a song for probably the first six months of the lockdown. This is one of the first and it came just in time for Halloween. Jim and Jon came over with their masks on, and Laura tracked her bass in her bass-ment. Try and get some fresh air when you can, people!"
Hear the new song and Superchunk's Sisters cover below.
Sisters Of Mercy Alice Ep 1
PREVIOUSLY ON SLICING UP EYEBALLS
Sisters Of Mercy Alice Episodes
The Sisters of Mercy Alice / Floorshow (1982) Single Alice Pass the crystal spread the Tarot In illusion comfort lies The safest way the straight and narrow No confusion no surprise Alice in her party dressed to kill She the thanks you turns away She needs you like she. Lyrics to 'Alice' by Sisters Of Mercy. Alice pressed against the wall So she can see the door In case the laughing strangers crawl and Crush the petals on the floor. The Sisters Of Mercy. Really poor follow up to Alice and Temple of Love. Very dissapointing Reply See 1 reply Notify me 1 Helpful r264414 Release. Edit Release All Versions of this Release Data Correct. Add to Collection Add.
Sisters Of Mercy Alice Ep 2
Sisters Of Mercy Youtube
Add a comment